KICKS Got Talent - $500 Prize
BrittanyCorp & Lumynestra invite Kick Streamers to showcase their unique skills! Boost your channel, win cash, and shine bright. Entry is free; deadline October 23, 2023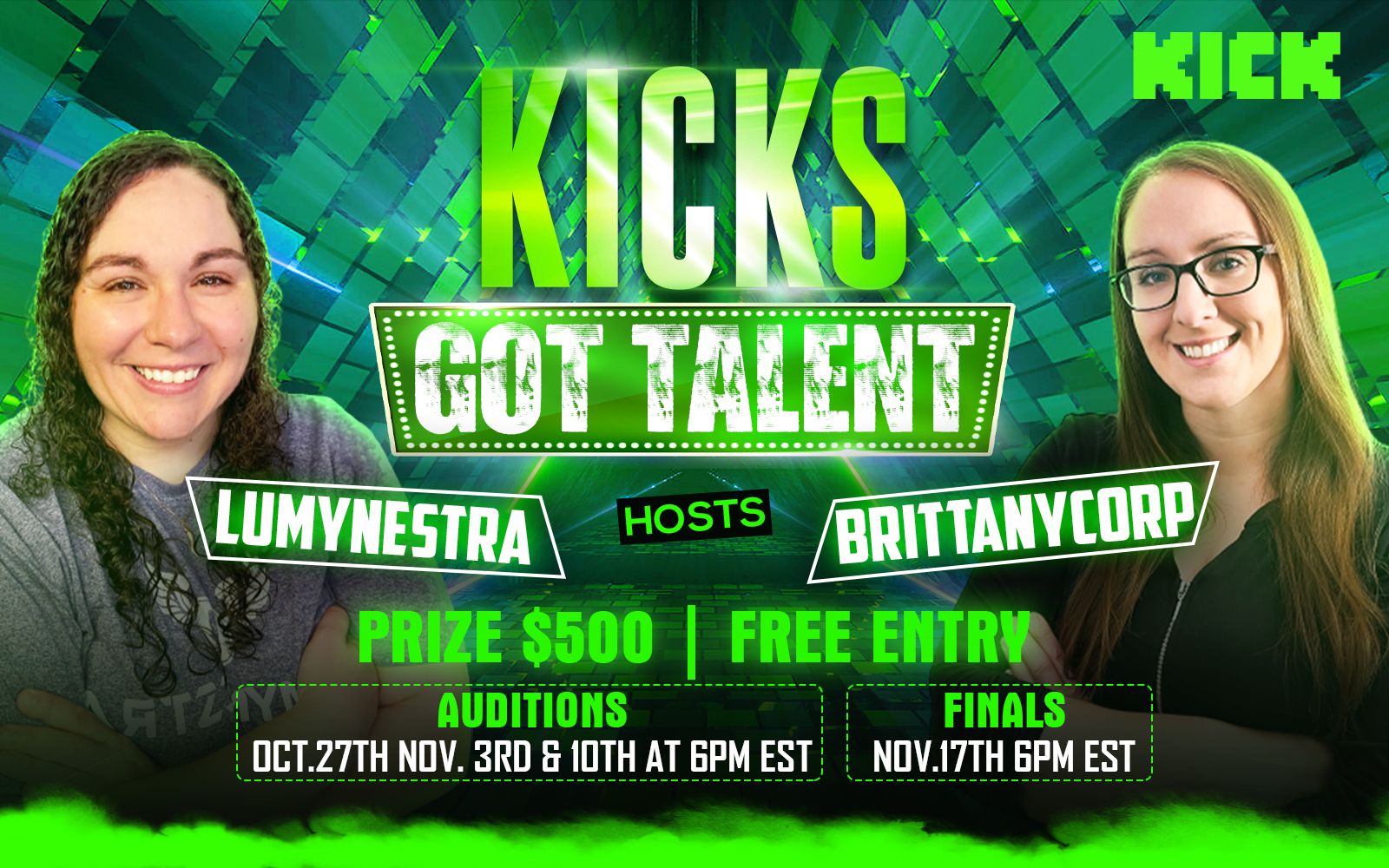 Are you a Kick Streamer with a hidden talent or a unique skill that the world needs to see? Whether you're a singer, dancer, magician, comedian, or have any other special talent, we want to see it!
BrittanyCorp and Lumynestra are in collaboration proudly presenting the next edition of "Kick's Got Talent".
AUDITIONS: Oct. 27th, Nov. 3rd & 10th 6pm EST
FINALS: Nov.17th 6pm EST
This event is not just about showcasing your talent but also a fantastic platform to amplify your channel's visibility and engage with a broader audience.
Why Should You Participate?
Spotlight on You: This is your chance to shine and let the Kick community witness your exceptional skills.
Boost Your Channel: A great way to attract new followers and increase your channel's engagement.
Win Big: Apart from the recognition, there's a cash prize waiting for the most talented Kick Streamer.
Free Entry: Absolutely no charges! We believe in celebrating talent without any barriers.
Important Details
Entry Deadline: Don't miss out! The last date to submit your entry is October 23, 2023.
How to Enter: Simply fill out the form at Sign Up and follow the instructions.
Kicks Got Talent Rules
Maximum of 60 Participants
Must be a Kick streamer.
Must have/use Discord + camera.
Joined the Discord listed in the sign-up form
Acts cannot be prerecorded.
A new act will be required if you make it to the finals.
The finals are Nov. 17th at 6 pm EST.
Please send BrittanyCorp on Discord a photo of yourself.
Contact BrittanyCorp or Lumynestra on Discord if you have any questions.
---
So, if you believe you have what it takes to dazzle the Kick Community, we're waiting for you.
Join us in celebrating the diverse talents of Kick Streamers and let's show what Kick Streamers have to offer!