Kick Creator Incentive Program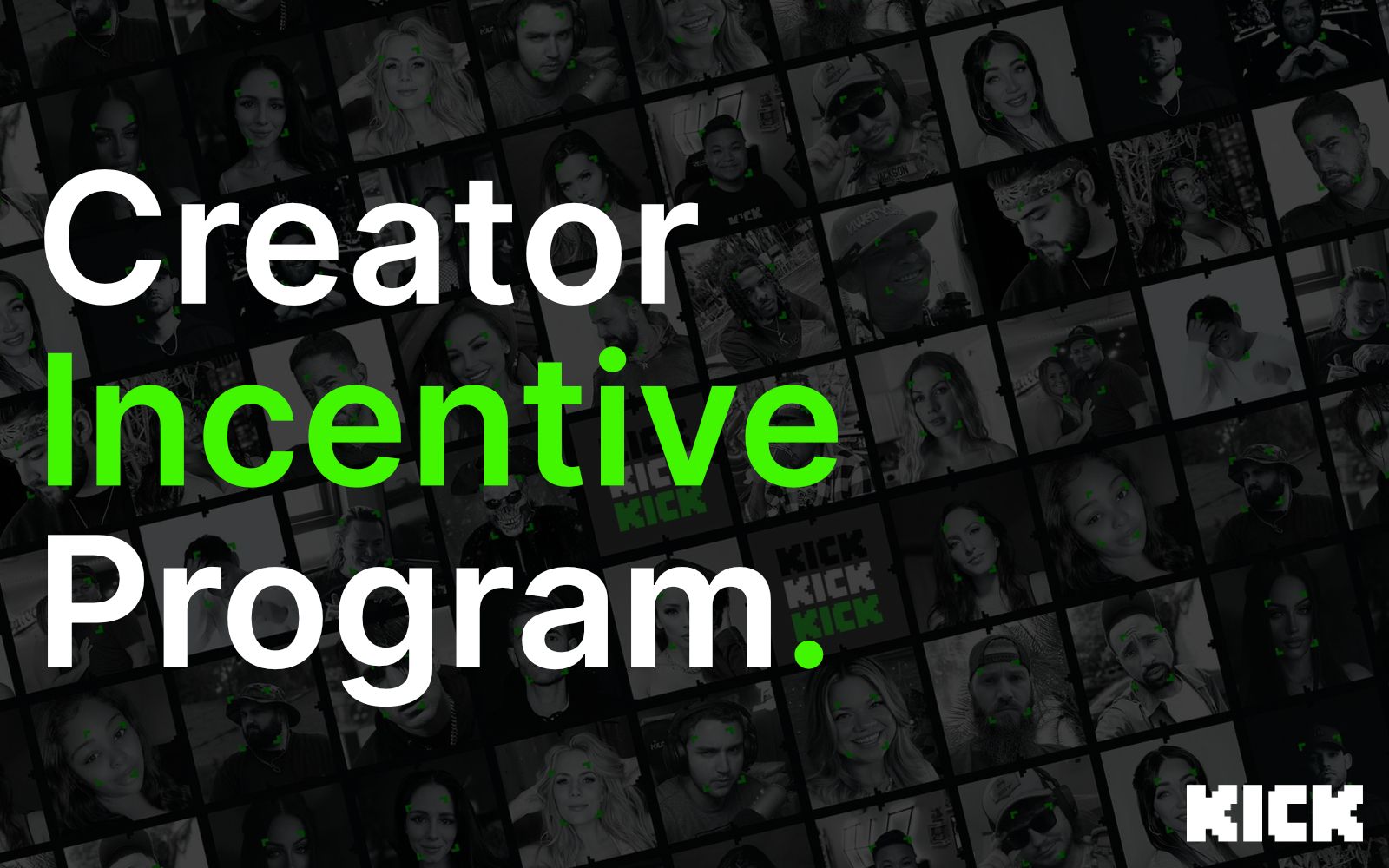 "The greatest days of live streaming are still to come.
The greatest live content is still to be produced.
The greatest streamers are still yet to do their first stream." - Eddie
What is the Kick Creator Incentive Program?
The Kick Creator Incentive Program is designed to compensate creators with an hourly rate for cultivating and building their communities on the Kick platform.
Currently, we are in the development phase with our 'First Class' of 33 creators. These individuals span a broad spectrum, with average concurrent viewership (CCV AVG) ranging from 10 to 1,500. Our diverse group includes small business owners, real-life streamers, high-intensity gamers, and musicians.
Kick is allowing Creators to speak for Creators and develop the kind of program that works for serious streamers and not out-of-touch-Corporations.
Eddie envisions a platform where hardworking creators have the opportunity to capitalize on their creative endeavours. With an attractive hourly rate combined with Kick's generous 95/5 subscription revenue split, creators equipped with entrepreneurial spirit stand poised for a promising financial journey ahead.
What are the benefits of the Kick Creator Incentive Program?
Farming other platforms can be exhausting, especially when you spend considerable time attracting viewers to your channel, only to then part with half of your earnings.
Kick introduces a refreshing change. Here, not only do you retain a whopping 95% of your subscription revenue, but you're also compensated for the dedication and effort you invest in curating, producing, and expanding your content. Simply put, Kick values and rewards both your creative prowess and your entrepreneurial spirit.
The more you build your community the bigger the rate. You don't even need a manager to apply.
✅ You don't need an agent
✅ You are in control
By joining the Kick Creator Incentive Program at this early stage, you're positioning yourself at the forefront of an initiative where the hourly compensation is merely the beginning.
As Kick evolves, early adopters may find themselves at the heart of a growing ecosystem, with opportunities and benefits that extend beyond what's currently on offer. Being at the ground level now can pave the way for even greater rewards in the future.
How do I join the Kick Creator Incentive Program?
Currently, the program is being shaped by individuals who are just like you - fellow creators. To give you an insight into the benchmarks they are considering for qualification, here's a quick overview of Round 2 metrics set forth by our First Class of 33 Creators:
| Just Chatting / IRL / Gaming | |
| --- | --- |
| 30 Day Average CCV | 99 |
| Average Subscriptions (30 Days) | 197 |
| Direct Subscriptions | 57 (out of 197) |
| Unique Chatters (30 Days) | 495 |
| Stream Hours (30 Days) | 76 |
| Followers | 1596 |
| Musicians / Artists / NICHE | |
| --- | --- |
| 30 Day Average CCV | 65 |
| Average Subscriptions (30 Days) | 197 |
| Direct Subscriptions | 40 (out of 197) |
| Unique Chatters (30 Days) | 446 |
| Stream Hours (30 Days) | 55 |
| Followers | 1596 |
While these Round 2 explorations of metrics are subject to modification, they offer a guide for creators, while the qualifications are honed further. The plan is to integrate this system directly into the Kick Creator Dashboard, empowering every creator to independently update their rates and track their performance metrics in real time.
Why are the metrics uneven?
These are the true averages of all First Class Creators as they advise Kick on what it takes to qualify. The First Class wants the numbers to tell an authentic story that they are working hard on behalf of all Creators in the live-streaming space.
How can I get an Early Start?
Position yourself ahead of the curve by joining Kick.com today. By taking this step now, you're not just securing an early advantage; you're also ensuring a seamless transition into the Kick Creator Incentive Program.
Every moment you invest in the present accelerates your potential success and maximizes the rewards you'll reap.
So, what are you waiting for? Get onto Kick now and shape your streaming future!
Creator Incentive Program Public Launch
We'd like to thank all three groups for their invaluable support and feedback in shaping the future of the Creator Incentive Program. Soon, the program will be integrated directly into the Kick Creator Dashboard.
Now is the crucial moment to join and start building your metrics. The future awaits; seize the opportunity today!