How to Build a Live Streaming Audience on Kick.com – Tips to Grow & Engage!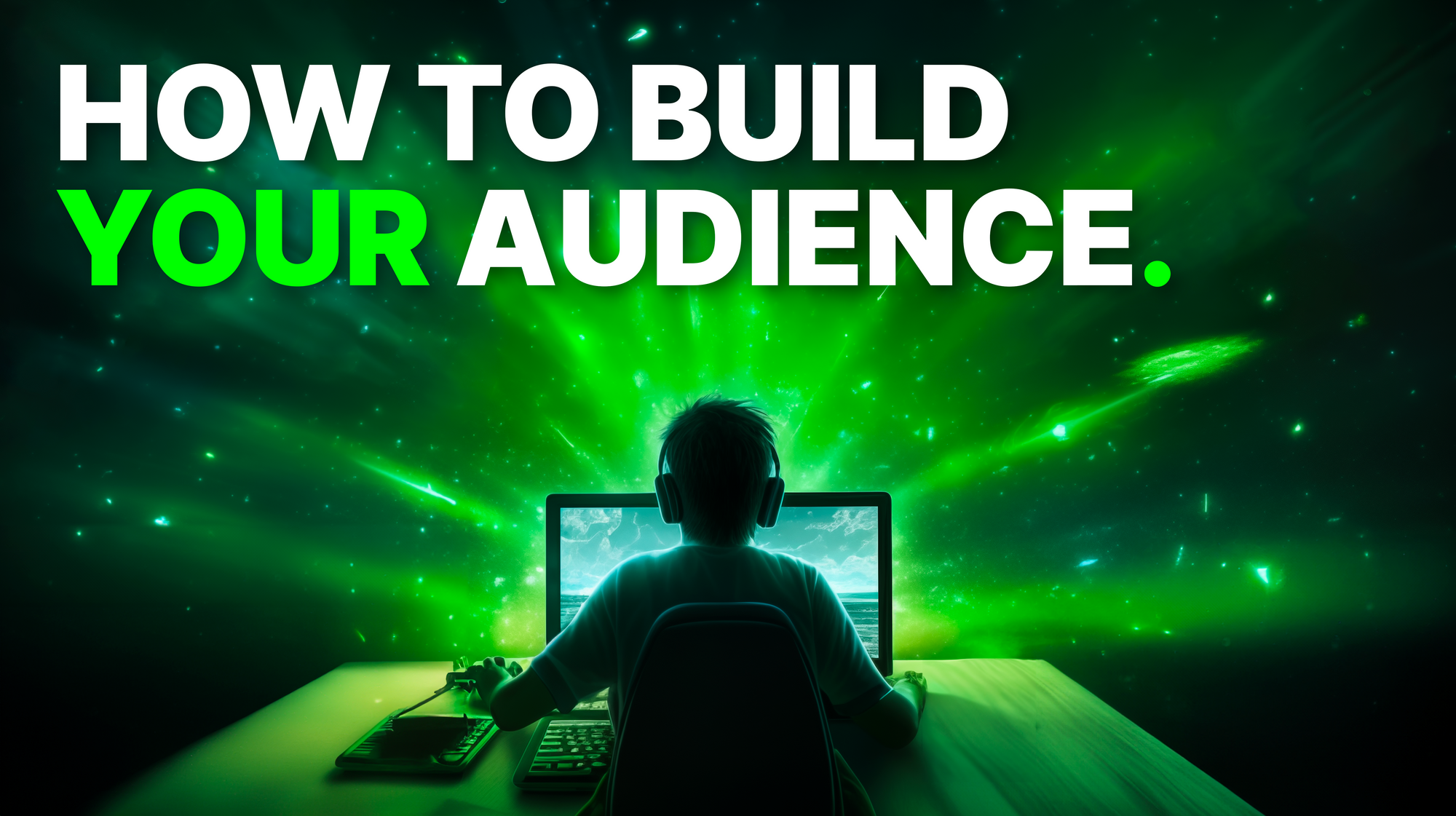 Getting started with streaming is easier than ever, but building your audience takes time. The most successful streamers didn't find success overnight; they all got to where they are by growing their audience over time. Today, streamers like AdinRoss and XQC have hundreds of thousands of followers, but they started from the ground up, becoming the viral icons we know and love.
If you want to get into streaming and become successful on Kick.com, you need to know how to build your audience and engage with your followers. Lucky for you, here at Kick Community, we offer the best tips to follow for success as a streamer.
Choose Your Niche & Know Your Audience
When you're first starting out as a streamer, one of the most important things you can do is choose a niche. There are so many different stream categories on Kick, including Just Chatting, Gaming, ASMR, Music, Gambling and much more. Within each category, there are plenty of different niches to explore.
It's a good idea to pick one particular niche and try to stick to it, as this will help you build your audience. Viewers are more likely to come back to your stream if the category and niche appeals to them. If you're always changing the kind of content you're streaming, you may struggle to hold onto these viewers over time.
How to Choose Your Niche
It's often difficult to know how to choose a niche as there are so many different options available to you. The best thing to do is choose something that you're really passionate about. If you love gaming, choose a particular game that you can't stop playing. If you're really into something more creative like drawing, create a drawing stream. Your passion will show to your viewers, making your streams more fun to watch.
Audience Demographics
The final part of this tip is knowing your audience. You should understand the kind of people who enjoy your niche and watch your streams. Are your viewers from a particular age group or live in a particular country? You can use social media tools to gain better insights into your audience demographics.
Knowing this information will help you create content that's both accessible and enjoyable, meaning more viewers and followers for your social media channel.
Create Engaging & Unique Content
The biggest impact on the size of your audience will be your streaming content itself. The best streamers are popular because they create engaging videos and have unique ideas. They're often funny, interesting, and informative, giving viewers visual content they can't find anywhere else.
Finding Inspiration
The chances are, if you're looking to become a streamer, you've already watched some streams yourself. If not, we recommend doing so. Watching the top content creators and the kind of shows they produce is a great way to find inspiration and understand how to engage with your audience.
A good idea for content is to collaborate with other popular creators in your niche. If you both have a bit of a following, you may benefit from working together on a stream or project. You can find out more about Kick creators from the User Stories.
Keep Your Content Relevant
Of course, you need to make sure your content always appeals to your niche and the audience you're targeting. Don't forget to consider what they like and see how they respond to different ideas when trying new things. Taking part in community events, particularly ones that are relevant to your niche, is also a great way to expand your audience, so be on the lookout for those.
Utilise Social Media Platforms
One of the best ways to reach new audiences and grow your channel is to promote your streams on social media. There are loads of different social networks and streaming platforms, including YouTube Live, Facebook Live, Twitter, and Instagram, and can be powerful tools to market yourself and your channel. It's completely free to sign up and start posting, and having a strong social media presence can only help your brand. However, it's important to keep in mind that you don't want to overdo it! Choose the social channels that work for you and your target audiences, and create quality content.
How to Use Social Media to Grow Your Audience
Most of the top content creators on Kick.com have social media accounts on all the major platforms, such as Instagram, TikTok, X, and Discord. You can edit and post videos from your streams. All types of content have the potential to do well on these social platforms. However, you should ensure all your videos are high quality, clear and engaging.
Aside from posting Instagram Stories, Reels, and TikTok videos, you should use platforms like X and Discord, too. These are great for reminding followers about upcoming streams. You can also offer up your thoughts, musings, and opinions, helping you engage with your existing audience and reach new ones. Create a social media strategy that fits your brand and your niche.
The Power of Social Media Marketing
Many of the people already watching your streams will enjoy being able to see more of your content, especially if it's engaging and fun. In addition, anyone else who sees and likes what you create is likely to come and check out your streams.
As part of your marketing strategy, always include your channel link in your bio and use your channel name as the watermark on any content you publish. The Kick Streamer Showcase is a great example of this, showing off the best streaming channels on the platform.
Schedule Your Streams Consistently
While it may be difficult when you first get started, it's really important to be consistent with streaming if you want to grow your social media audience. Your fan base isn't going to stick around long if you're rarely ever online. Having a consistent schedule also helps your followers know when they can watch your streams, ensuring they never miss out.
How to Create a Streaming Schedule
Creating a schedule is pretty simple. It's recommended that you start off small and then increase your schedule if you find you can handle more streams. The more streams you do, the greater chance you have at attracting a wider audience and finding new followers, but it's easy to get burnt out.
Start off with a few streams per week and go live for between two and three hours at first. If you want to go longer, take a break in between first so you're able to rest and remain at your best. Streaming is a lot of work, and it's mentally exhausting if you're not used to it.
Always remember to stream at the same hours each time you stream, as this will help your followers. Remember, the times you stream at will affect your audience, so consider the kind of demographics and potential customers you're looking to target when thinking about your schedule. Stream announcements should be made in advance through a social media post to help your viewers know when to get online.
Provide Value & Reward Your Viewers
As a streamer, you need to provide valuable content for your viewers in the form of entertainment. This should mainly be through your streams. However, there are other ways you can provide value and ensure you reward your viewers for being a part of your community.
Sub Rewards
Once you become a Kick affiliate, you're able to start receiving subs. When a follower likes your stream, they can subscribe. This charges them $4.99 and allows them to support your channel. Most streamers personally thank or shout out users who sub. Some also give out sub rewards. These are special actions that give a more personal thank you to subscribers, especially those who also gift subs to other users.
Giveaways
Giveaways are an excellent option to promote your channel further and get people engaging with user-generated content. Primarily used in influencer marketing, these are competitions that followers can enter for a chance to win. The prizes you offer are completely up to you, but they should be something your audience would love. That way, you ensure maximum engagement.
Unique Emotes
You can add your own custom emotes to your channel too. Kick allows you to upload up to 60 emotes, which can be used by all viewers. In addition, there's space for 24 more emotes. These are only for subscribers, making your channel even more fun for all your dedicated fans.
Cover Trending Topics & Create Conversation
The most successful streamers don't just stream content; they're always engaging with their followers and creating conversation. This is what sets streaming apart from just watching content on video-sharing platforms. It's fully live, and the viewers can feel like they're part of the show.
Asking Your Audience Questions
One of the easiest ways to create a sense of community and ensure you have a lively discussion in your chat is to ask them questions. These don't have to be particularly complicated. Things like "What was the last thing you ate?" help encourage engagement from your viewers. You can bring up trending topics too, such as getting their opinion on a recent sports result or the latest celebrity gossip.
Creating a Personal Relationship
An engaged audience is far more likely to follow your channel and subscribe. Creating a deeper connection is a powerful way to ensure your viewers keep returning to future streams. Make sure you address them by their usernames, respond to their comments and questions, and have fun with them.
Kick Moderators
Once you've built a big following and are getting lots of viewers on your streams, you're going to need moderators to control your chat. You can add and remove moderators from your Creator Dashboard. In addition, Kick is adding new Side Kicks, who will be volunteers to assist you and your moderators, ensuring the chat runs smoothly.
Use High-Quality Streaming Equipment
Poor-quality streams with low framerates and garbled audio will prevent you from reaching your potential. Stream viewers will soon leave if the audio and video quality is bad, and it will definitely prevent your audience from growing as quickly as it could.
While you don't necessarily need to have professional-level equipment, you do at least need a good setup that will allow you to create high-quality streams. Relying on the built-in hardware of your laptop or device is generally a bad idea, as the quality will be lower.
The Equipment You Need
At the very least, you should have a quality microphone so your audience can hear you talk clearly. Most headsets come with a decent microphone, though you may want to upgrade if you want the best audio levels. If you're showing your face on stream, using a webcam capable of recording video content in 1080p is also a must. Last but not least, ensure you have a strong and stable internet connection. Otherwise, your stream will disconnect often, disappointing your regular viewers.
Conclusion
Building a large following as a streamer can be a challenge, especially considering the level of competition. However, there are few ways you can earn money doing something you love, and all while creating a community of loyal fans. Being a streamer on Kick.com is extremely rewarding, and you can get started and begin growing your audience today. Remember to keep up to date with all the latest Kick news, as well as more tips and tricks with our announcements at Kick Community!